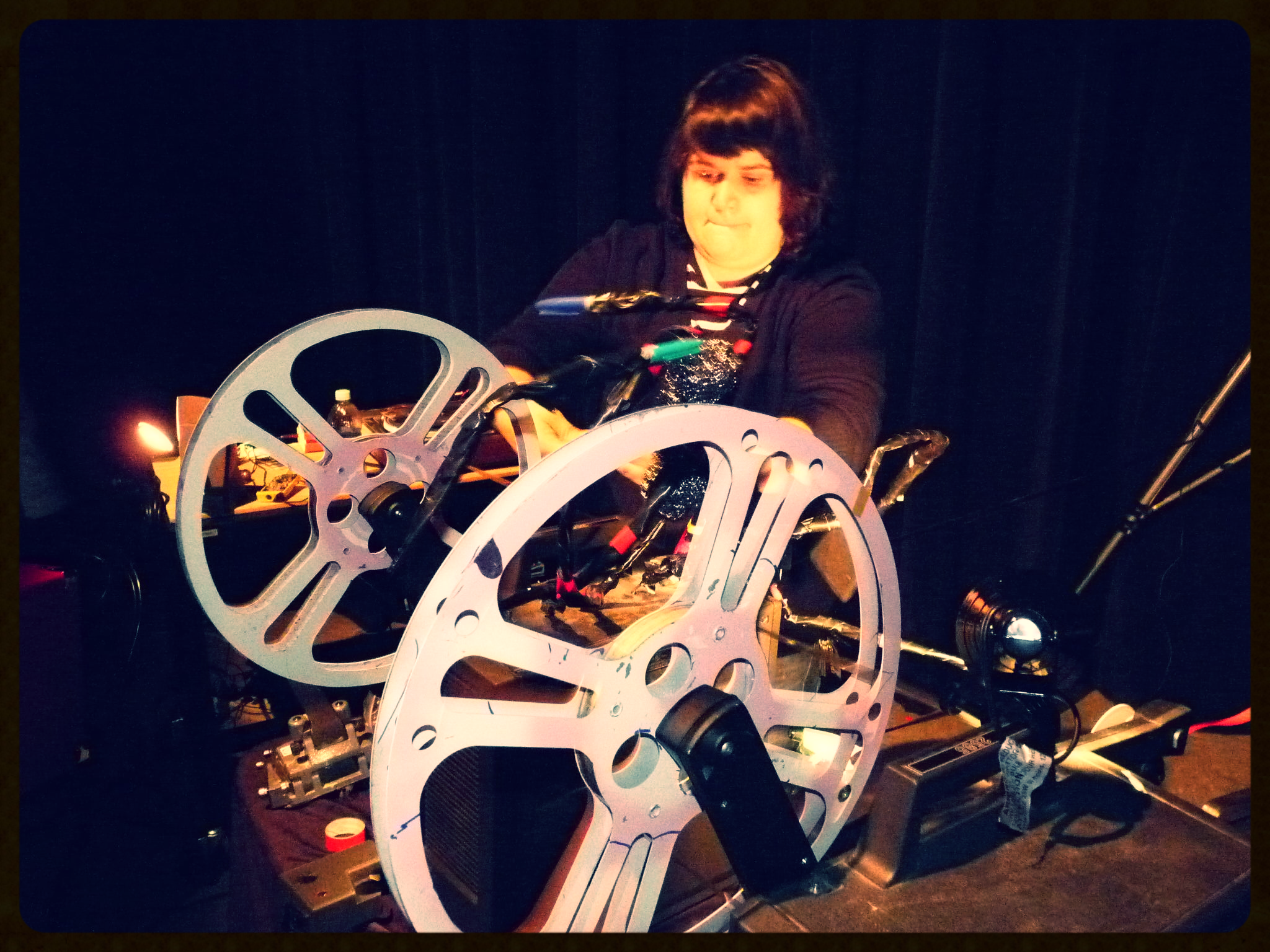 LIVE PERFORMANCE OF ESTA NESBITT'S EVERYMAN AS ANYMAN, OR PUTTING ON, ON, ON, ON
You Are What You Eat
(ANIMATION WITH LIVE SOUND EFFECTS PERFORMANCE)
Animation and sound design by Kristen Anchor, performed by Kristen Anchor and Andrea Shearer
You Are What You Eat is a rotoscoped animation of kitchen disaster scenes, the sourced from Hollywood films. Using studio foley sound techniques, fruit, kitchen appliances, and modified objects create the soundscape to the animation -- live and visible, in front of the audience.
Magic Movie Machines (Series)
Live visual and audio performances with modified projectors, found 16mm film, leader, stock, spray paint, bleach, power tools, dirt, abrasives, etc. Looping 16mm is manipulated live, changing the visuals, audio, and "narrative" over time.
Monster Drummer Thunderupagus
Kristen Anchor and Andrea Shearer are Monster Drummer Thunderupagus, the out of this world monster drummer from another dimension. MDT has played Transmodern Festival, Artscape, Creative Alliance, and many other venues across the multiverse!
Costume designed and constructed by Kristen Anchor
The Facts About The Cats
Video by Kristen Anchor (created at Experimental Television Center artist residency)
Music by Rahne Alexander and Kristen Anchor
Performed by Rahne Alexander and Rahne Alexander
The Degenerettes
The Degenerettes are a lofi art pop group from Baltimore, MD. The all-girl group, originally formed in a Baltimore basement in 2005, brings together three magnates of Baltimore's DIY art and music scenes. In addition to performing in rock clubs, warehouses, and galleries on the East Coast, The Degenerettes collaborate with The Miss America Puppet Show, and are among the subjects of Riot Acts, an indie doc on transgender musicians released in 2009, have contributed music to films by Chris LaMartina and Jeanie Clark. and will also have a song featured in the forthcoming film version of Michelle Tea's acclaimed novel Valencia.
The Degenerettes have released two albums, Bad Girls Go To Hell and Philosopher Queens are available on iTunes.